Return to the apocalyptic fantasy world of Grim Dawn with two brand new chapters in humanity's struggle against impossible odds. With new threats arising in the fallen city of Malmouth, you must forge new alliances and bring the fight to the Aetherial invaders at last! Venture into dangerous new parts of the world as you discover unique items, empower your characters and make difficult choices that have a lasting impact on the people of Cairn.
The Ashes of Malmouth expansion was released on October 11th 2017 and is available for purchase right here on our website and on Steam, GoG and the Humble Store. It is priced at a modest $17.99 and comes included in the Loyalist Edition available on our website.
This expansion has turned out absolutely massive and we are immensely pleased to share it with you all. It comes packed with roughly 50% of the base game in terms of size and content and represents some of the best of what Grim Dawn has to offer.
For a quick overview of how it compares to the base game, take a look at the chart below.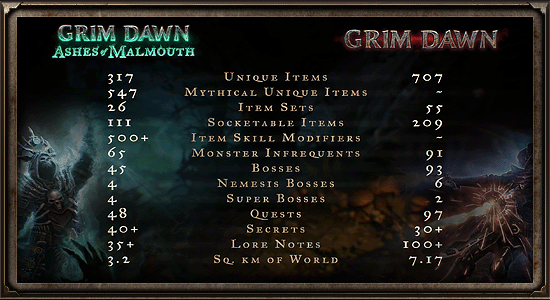 Key Features
---
Level Cap Increased to 100 – Reach for ever greater power with an increased level cap of 100 and an increased Devotion cap of 55!
Two Additional Masteries – Unleash your vengeance upon the enemies of humanity with two new Masteries: the Inquisitor and the Necromancer, both of which can be combined with the base game's Masteries, nearly doubling the possible combinations!
Two Story Chapters – Confront the devious Aetherials and their twisted abominations in the fallen city of Malmouth as you push forward alongside the Black Legion and Inquisitor Creed in two epic Chapters!
Transform Your Appearance – A brand-new Illusionist Service NPC enables you to transform the appearance of your equipment and customize your ideal look! Draw upon every item in your collection across all characters!
New Environments – Explore new parts of Cairn to the north of Burrwitch and beyond! Traverse the treacherous forest of Gloomwald and the murky Ugdenbog as you seek passage to the fallen city of Malmouth.
Four Factions – New Factions provide more opportunities to make allies…and enemies. Earn their favor to unlock unique rewards, or become a nemesis to spawn powerful foes.
14 Constellations – Unleash the might of the Arkovian Gods with 14 new Devotion Constellations that open up even more combinations in Grim Dawn's massive constellation map.
Collect Hundreds of New Items – Dozens of new Monster Infrequents and Hundreds of Epic and Legendary items are waiting to be added to your collection! Combine them with the new Illusion System to create a look unique to you!
Item Skill Modifiers – Transmute and empower your Mastery skills using new Skill Modifiers found exclusively on equipment.
New Nemesis and Superbosses – Tackle all-new vicious threats and earn their unique loot. Discover Cairn's secrets to summon supremely powerful foes.
A New Rogue-Like Dungeon – Delve into the mysteries of the Ancient Grove, a haven of the beast god Mogdrogen that has become tainted by the corrupting presence of the Aetherials and the Chthonians.
Expanded Stash – Stow away precious treasure with a vastly expanded Personal Stash and an additional Shared Stash Tab.
Reset Your Attributes and Mastery Bar – Find a new type of potion that allows you reset your Attribute Points. Speak to a Spirit Guide to unlearn the Mastery Bar down to one point.
New Masteries
---
Inquisitor
As members of the esteemed Luminari Order, Inquisitors were responsible for protecting the Erulan Empire from the dangers of the arcane and the occult. Over the centuries, the Inquisitors gathered countless relics of unimaginable power, but duty sometimes overcomes safety, and some of these relics were studied and in turn replicated for use by the inquisition. While they excel with ranged weapons, Inquisitors are armed with an arsenal of relics and arcane runes that allow them to be more than capable in close-quarters combat.
Necromancer
Though most modern Necromancers hail from the Order of Death's Vigil and the training of the mysterious Uroboruuk, not all choose the secluded life. While their profession naturally inspires fear and revulsion, the Necromancers of Cairn seek balance through research and mastery over the ultimate fate that awaits all mortals: death. Necromancers make heavy use of conjuring forth skeletal minions and sapping the very vitality from their unwary foes, though entering the fray themselves with martial weapons is not unheard of.