Masteries
---
In Grim Dawn, you can select from several different classes, known as Masteries. Masteries represent various archetypes from the world of Grim Dawn which you can combine to create your own customized play style. At level 2, you can select your first Mastery. At level 10, you will have the option of selecting a second Mastery to complement your initial choice, creating a Dual-Class character.
Dual Class Names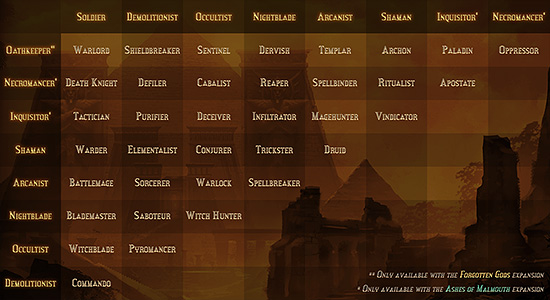 Choosing your Masteries is the most important step of creating a new character in Grim Dawn. The game currently features the following Masteries:
Arcanist
Demolitionist
Nightblade
Occultist
Shaman
Soldier
Inquisitor
Necromancer
Oathkeeper
Resetting Skill Points
If you find that a particular skill you have invested in is not working out for you, you can visit a Spirit Guide that will unlearn skill points for a fee. You cannot unlearn a skill point invested in an active skill without first unlearning all points from passive skills which affect it. You also cannot remove points from the Mastery bar.
To learn more about the Spirit Guide, visit the Service NPCs page.
Mastery Calculator
Our fans have been busy creating tools to assist in the creation of your characters. One such example is GrimTools, created by Dammitt, which allows you to plan out your builds.
You can visit the GrimTools website here.